This year's Aldersgate sermon will reflect on the story of two religious persons in Acts 10 who experienced God in a deeper way. As we remember John Wesley's heart-warming experience on Aldersgate Day, may our own hearts be warmed to obey God's command to love him by being kind and loving our neighbours who may well be religious.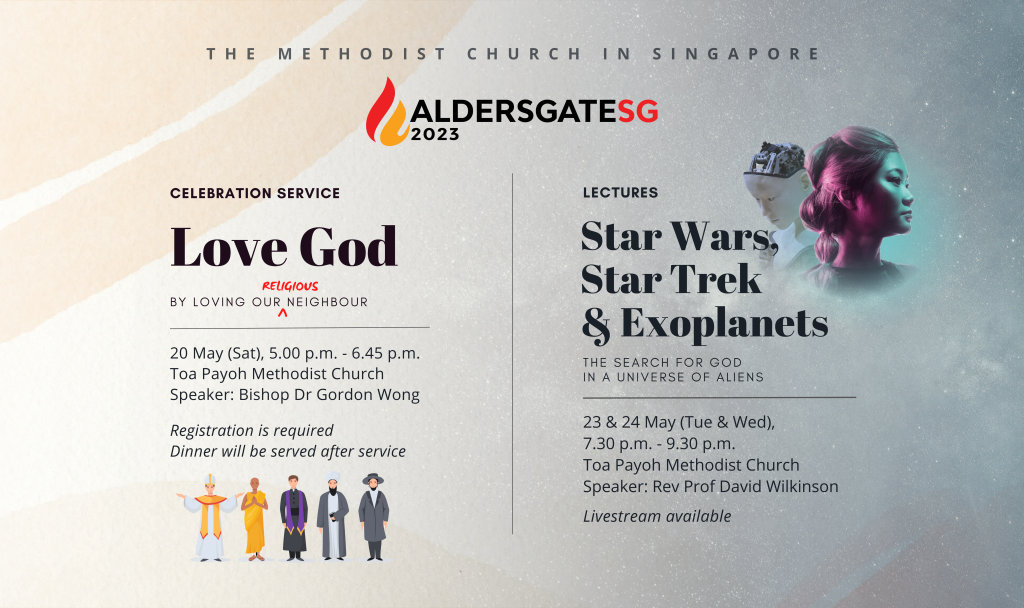 Celebration Service
Bishop Dr Gordon Wong will be sharing what it means to Love God by Loving Our Religious Neighbour during the Aldersgate Celebration Service. Let us join our hearts and spirits together to celebrate Aldersgate and be renewed to serve God wherever our Lord chooses to place us!
DATE: 20 May 2023 (Saturday), 5pm – 7pm (onsite only)
VENUE: Toa Payoh Methodist Church
SPEAKER: Bishop Dr Gordon Wong
Registration is required for the service as dinner will be provided. Please register here.
Aldersgate Lectures
Over the past couple of decades we have discovered over 5000 planets beyond our own solar system. Some of those planets are small rocky planets similar to the Earth and some of them are at the right distance from their stars to be at a temperature which would make possible the development of life. But does this mean that the Galaxy is full of extra-terrestrial intelligence and what does this mean for Christian faith?
In this year's lectures, our guest speaker Rev Prof David Wilkinson will explore with us the scientific arguments for and against other intelligent life in the Universe.
No registration is required to attend the in-person lectures. You may also view the livestream here: https://aldersgate.methodist.org.sg/livestream
For more info about AldersgateSG 2023, please visit https://aldersgate.methodist.org.sg