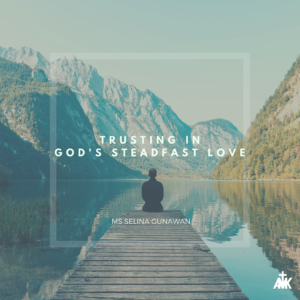 by Ms Selina Gunawan
1 Shout for joy in the Lord,
    O you righteous!
    Praise befits the upright.
2  Give thanks to the Lord with the lyre;
    make melody to him with the harp of ten
    strings! (Psalm 33)
The psalmist reminds us to rejoice in the Lord and to praise Him for all that He has done. Rejoicing in the Lord is also a message that Paul wrote to Philippians church. Despite suffering and persecution, Paul exhorted them to rejoice. In the same way, in spite of the fear and panic in our world, let us shout for joy in the Lord because God is always on the throne. God has shown his steadfast love to many generations and surely He will show His steadfast love to all of us this season.
These few months have been marked with anxiety, fear of infection and fear of the unknown. The psalmist reminds us to give thanks to God, to focus on His greatness and love. Therefore, let us not be anxious, but with prayer and petition, and with thanksgiving, let us bring our requests to Him. In particular, let us pray for our government and our health-care professionals. May the Lord grant them wisdom and protect them.
As for us, let us wait upon the Lord, trusting in His steadfast love,
20 Our soul waits for the Lord;
     he is our help and our shield.
21 For our heart is glad in him,
     because we trust in his holy name.
22 Let your steadfast love, O Lord, be upon us,
     even as we hope in you.  (Psalm 33)