Testimony by Ong Ee Ling
During the first week of Chinese New Year (1 to 6 Feb 2022), I was busy celebrating with family and friends. I was happy to be a blessing to the people around me. Little did I expect what would happen next!
Day 1 – 7 Feb
That morning, I changed into my uniform and was getting ready to teach. Just before heading to school, I took my Antigen Rapid Test (ART) and to my horror, saw two lines.  I turned to my hubby and said "Oh no, Covid positive!"  I was very fearful. Questions like "Why did I get Covid", "Where did I get Covid?", and "What must I do?" flowed through my head.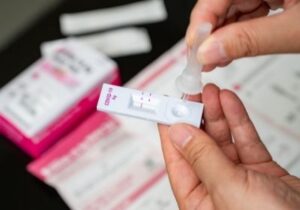 I informed my school and sat praying with my husband Patrick. I was tearing and was very lost, but he comforted me and sent me to the doctor. At the clinic, the nurse instructed me to wait outside with the other Covid patients and I was shocked to see at least 22 of them outside. When I saw the doctor, he recorded down my symptoms, gave me an ART, and then confirmed that I had Covid.
At home, as I had to isolate myself in our bedroom, I requested Patrick to move to the living room as the other bedrooms were occupied. Patrick then disinfected the house, and prepared lunch and dinner for me. I slept the whole day as I felt weak and tired, was coughing and had a sore throat and runny nose.
Day 2 – 8 Feb
The medication I was taking was drowsy, so I woke up with a heavy head and I was feeling very unwell.  I was scared.  I prayed.  I picked up The Daily Bread, and then meditated upon the following:
"Trust The Light" – John 12 : 36: "Believe in the Light,  so that you may become children of light. We will face dark times, when it is impossible to see the way ahead, but by believing or trusting in the light, we can press on"
I was assured that God knows my fear and thoughts, and that He showed me these words to comfort and assured me that He is with me in this, and I must believe and trust in the light to press on. I felt relieved and rested.  I was feeling weak, so I slept the whole day, prayed and read books.
Day 3 – 9 Feb
When I woke up on Wed, I prayed "God, today is my 72 hours, please give me back my healthy body.  I want to be healed."
I turned on my computer and I played back the Healing Service Sermon where Pastor Emanuel preached on 30 January 2022 titled "Your Faith has healed you" based on  from Mark 5:25-36.  God reminded me of how he had healed the woman who bleed for 12 years.  He reminded me that I am a daughter of God, and He will heal me and my faith needs to be directed towards Jesus.  I felt refreshed.
I was talking to God that I am not afraid of Covid, but I was afraid that I might pass on the virus to my loved ones and my household.  I asked Him, "Please heal me and protect my household."
Just after breakfast, Patrick showed me his ART results – he was also Covid positive.  I was doubly afraid and I cried," God, Why does my hubby have Covid too?"  I was very lost and went down on my knees and prayed.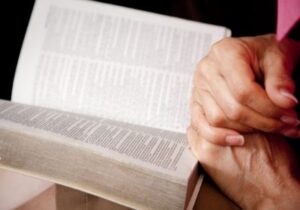 As I turned to the Bible again, God again assured me through Colossians 3:2: "Set your minds on things above, not on earthly things". I prayed and cried myself to sleep again. Both Patrick and I had to be isolated in our room.  It pained me to see my beloved husband coughing badly and feeling so weak.  I was very scared that we would pass on the virus to our household, so we held hands and prayed.
Just then, I remembered reading an article that I could call MOH to arrange for temporary lodging for isolation to protect our household. MOH then put me on waiting list for an isolation centre.  We prayed and held hands to sleep.
Day 4 – 10 Feb
When I woke up , I prayed that I would get a negative ART result (after 72 hours) today.  I was disappointed when I saw that my ART was still positive.  Again, I turned to the bible and God showed me from Feb 10 ( 2021) The Daily Bread  – Mark 4 :35-41 where Jesus slept through a storm while his disciples panicked.
God reminded me that He is in control.  Patrick and I then let go our frightening experience and remembered that Jesus is in full control of our Covid situation.  No circumstance is beyond His control.  We prayed and surrendered to God. We felt peace, so we watched TV and rested in our room.
At 3pm, MOH called us and said that we could move to the isolation centre at 6 pm that day.  The officer asked us to pack our things and to be ready by 6pm.  We thanked God for answering prayers.  I suggested to Patrick that God might have planned for us to go to isolation centre together – that is why my ART was still positive that day.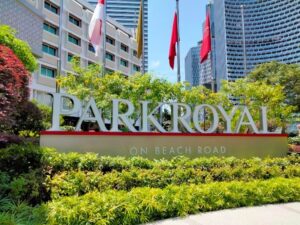 At 6pm, MOH sent a cab to pick us up to head to Park Royal Hotel We were ushered to the hotel lobby to wait. There were about 30 young and old people quarantine in hotel. We checked in to the beautiful quarantine room and we had lots of space to move and rest.  Dinner was provided and we felt blessed to be able to rest peacefully.
Day 5 – 11 Feb
We had very good rest in the hotel and woke up feeling fresh and well.
God reassured us of His Love through 1 John 3:1 – " The Voice of the Father in our heart reassures us of His Love for us."
After lunch, Patrick and I were well enough to do some office and school work and after dinner, we rested and went to bed early.
Day 6 – 12 Feb
We woke up early and started praying.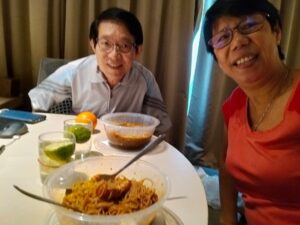 That day, Patrick was to do his ART (after 72 hours). God reassured us to live by faith through  2 Corinthians 5:7: "We live by faith, not by sight" and God reminded us of the story of David and Goliath in 1 Samuel.  David said to Goliath, "The Battle is the Lord".  We were reminded to trust in God's character and power, so that we would be able to live more closely by faith rather than by sight.
After Patrick's ART result showed positive, I prayed "The Battle is Yours". However, my ART showed negative, and I jumped for joy.  I thanked the Lord and encouraged Patrick that God will fight the battle for him too. We prayed and I reported to the hotel on my negative ART test and they said I can be discharged.
I thanked God for healing me in His time and for walking this Covid journey with us. I continued to pray for Patrick's complete healing.
The next day (Day 7), Patrick's ART was negative. We were finally cleared from Covid!
Thank You, God, for protecting our household throughout this Covid journey.  Thank you all we have been praying for Patrick and myself.
I am sharing this  to encourage everyone  that God will see us through all situations.  Fear not, because our God never leaves or forsakes us in difficult times.  Amen. All Glory to God!