Testimony by Andrew Ng
Last year, the Singapore government announced Circuit Breaker measures that would forever change how we worked, how we lived, and more importantly how church was run and perceived.
It was also about a year ago that our online prerecorded services first started. I was honored then to be a small part of the team that puts together the weekly services. Little did we know, God had already planned for this way back in 2018, when AMKMC performed as a virtual choir for the first time with the song "Many Gifts, One Spirit". It was a song that became truer to its words than I would ever believe.
This is my humble attempt to journal the events of the past year, lest we forget the lessons of the past.
Virtual choirs and COVID-19
To quote Wikipedia, "A virtual choir, online choir or home choir is a choir whose members do not meet physically but who work together online from separate places." Back in 2018, when AMKMC celebrated its 40th anniversary, AMKMC performed as a virtual choir with the song "Many Gifts, One Spirit". There were very few virtual choirs back then, so you could say that we were one of the forerunners in this aspect.
Then came COVID-19.
Never in my wildest dreams did we expect that virtual choirs would explode into a worldwide phenomenon and became a new norm in worship – we were not allowed to meet in person, so each person had to record themselves singing along to a backing track, and then these needed to be put together into a chorus or choir, so to speak.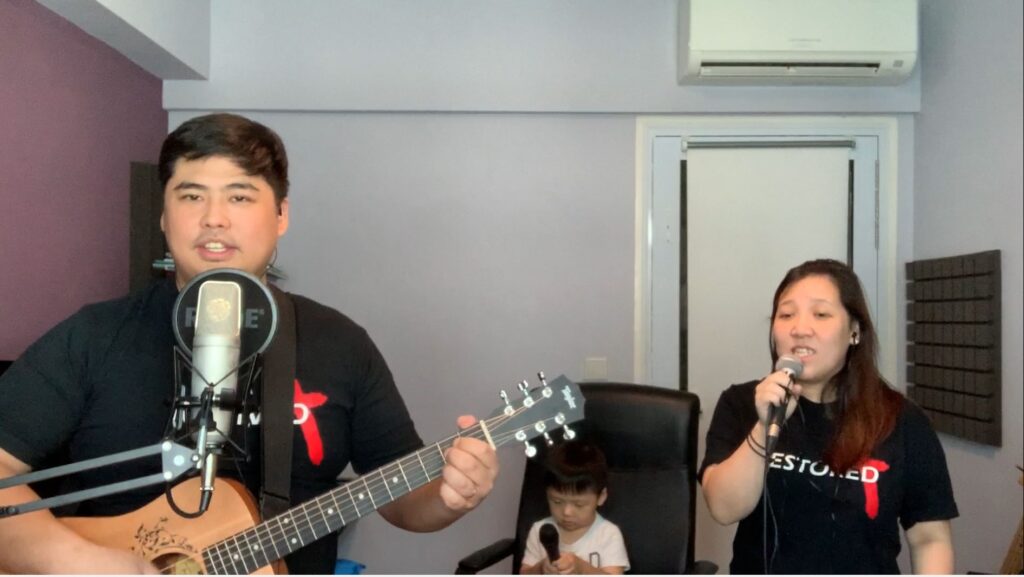 Juggling between the frontlines and the weekly online choir
On the workplace front, around February last year, as a staff in the Ministry of Health, I was drafted to help out with the ongoing COVID-19 efforts at MOH's Ops Centre. This meant working 12-hourly work shifts 4-5 times a week spanning across both weekdays and weekends. Although each shift practically flew by, it was nonetheless a tough period of time, and probably toughest on my family, who saw very little of me on workdays, and my wife having to take care of my son alone. On workdays, it would mostly be goodbyes in the mornings and quiet time at night after I got home from work, which is all I had time for. I vividly remember spending Valentine's Day evening writing my report for the day, only being able to leave at around 9pm that evening.
On off-days, I would either be catching up on my pre-COVID work or working on the virtual worship for that particular week. These ended being the usual routine to my week, between my work shifts, working from home and putting together the worship songs every week. Yet, by God's grace, each week's song became a blessing and a timely message. The songs and the weekly services helped me to map out each week, so despite being on shift work, church helped to signal the beginning of each new week.
Yet God is faithful indeed. Early on in my stint in the Ops Room, my wife and I found out that we were expecting our 2nd child! This was such a timely blessing to us, and an early glimmer of hope that I held onto to help tide me through especially the most difficult of weeks.
COVID-19, virtual choirs and God's intention for AMKMC
Back to the topic of virtual choirs, one of the joys (and arguably pains) I had working with a virtual choir as an editor is you get to hear each and every voice individually. Unlike in a physical choir where you mostly hear the blending of the choir's voices rather than the individual, virtual choirs are "reverse-engineered" in the sense that the voices are recorded individually first, then subsequently blended into a choir. Due to this process, the editor is able to hear each and every intricacy for each voice (yes, including flaws, mistakes and all).
The even stranger thing I found was that as I added more and more voices into the choir, the more the voices automatically sounded richer. It was almost as if every voice, with each unique timbre of its own, had its place in the virtual choir. Ironically, the more voices that joined the virtual choir, the less editing that was needed on my part!
This got me thinking into how closely the process of putting together a virtual choir resembles God placing us in community. The adage "the Christian life is not meant to be lived alone" holds absolutely true here. Only God can take our individual imperfections and piece us together into a beautiful tapestry. This holds true not just for choirs but to all Christian relationships – whether it be cell groups, marriages and families (both spiritual and physical), and most of all in our church. Where God is at the centre of our relationships, the "Gestalt", or "whole" becomes so much more than just a sum of its parts.
While Singapore (at the time of writing) seems to be re-tightening our COVID-19 prevention measures, I hope this encourages all of us not to give up from meeting up, whether virtually or in person where possible. Like our virtual choirs, I believe that as when we come together in communion, we bring who we are to the table, flaws, and all. And that's perfectly okay. When God is done orchestrating his plan with us, all that is left is perfect community, a veritable "Home with a Heart".
What a beautiful picture that would be indeed.
In His service,
Andrew Ng
(With special thanks to the virtual choir team: Justin Chan, Nathaniel Tan, Sophia Sng, Cassandra Tan and all the beautiful singers of the online worship choir)