A Taste of Alpha
We hope to create a space for anyone to explore questions of life and the Christian faith.  This is a place for you to ask questions, and share your point of view in a safe and honest environment.
Anyone of any age is welcome to join. Feel free to sign up to accompany your friend/family on their Alpha journey too!
What to expect?

Through Alpha, get the chance to meet new people, journey together, and share life on a deeper level.
Explore the big questions of life in 5 sessions such as: "Why am I here? Where am I heading? Is there more to life than this? How can we have faith? Who is Jesus?"
One of the most important part of Alpha: the chance to share your opinion, and discuss in a small group. There's no obligation to say anything and there's nothing you cannot say.
each one, reach one E-posterS
Please feel free to use either of these e-posters to invite your friends and family.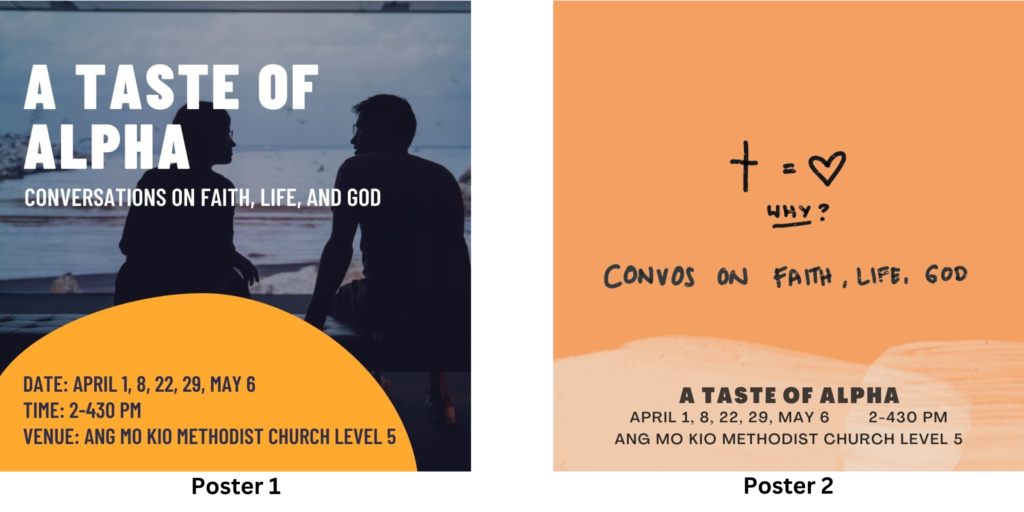 Download from the links below (right-click and save):
sign up for a taste of alpha!
Dates: April 1, 8, 22, 29, May 6
Time: 2.00 to 4.30pm
Venue: Ang Mo Kio Methodist Church (Room: L5 Sanctuary 3 & L5 Charis Hall)
For enquiries, please contact our administrator Tia Li Li at tel: 9637 9029, or PTM Lady Abigail Cheng at abigailcheng@amkmc.org.sg.
Do register in the form below by 26 March 2023.