Testimony by Lee Xin Lee
Born into a Buddhist family, I first learnt about Christianity when I was four years old. At an extended family gathering, my auntie sat down with me and my younger brother. As we started to pray the joy of the Holy Spirit came over us and we laughed uncontrollably. I had more exposure to Christian teachings when I attended a Methodist school. We had daily devotions and weekly chapel, and I found myself being drawn to the teachings. Later when I was older, I came to accept God when I felt His presence during a group prayer.
God's grace and faithfulness
As I entered working life and started to build a family of my own, I became consumed and neglected God. However, He has never forsaken me and many times at my lowest points – He would faithfully answer my prayers.
In late 2019, my husband and I discovered a 2.5cm lump in my daughter's neck. Immediately, we took her to see a specialist who advised us to do a surgery to identify what it was. My husband and I were devastated, and we could only pray earnestly for God's intervention. A week before visiting the specialist to finalise the surgery for my then-seven-year-old daughter, we realised that the lump had gone. It was a true miracle, and my husband and I were overjoyed! When we saw the specialist, she was shocked as well and asked what we had done. We responded, "we prayed".
My BMC journey
When I decided to attend the Baptism and Membership Course (BMC), I did not know what to expect. I am so glad that I took the leap of faith and joined the course.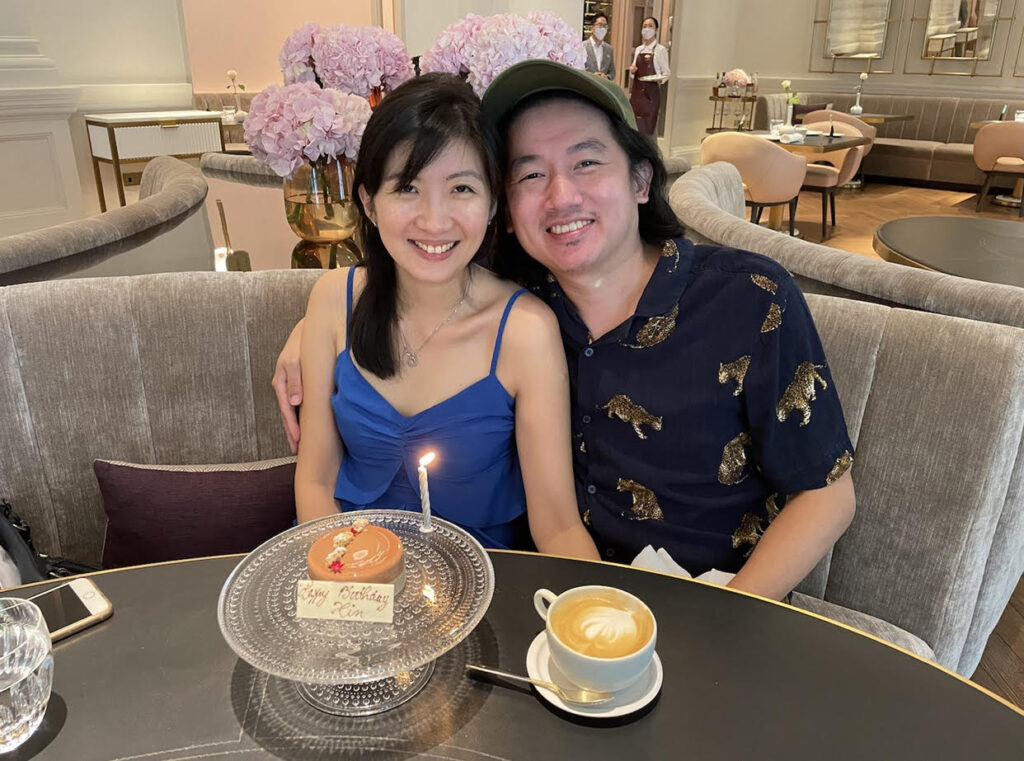 It has been a rewarding journey where I have re-learned and grounded my knowledge on what it means to be a Christian, and more specifically a Methodist. Before taking the course, I have always thought that performing good deeds makes for a good Christian, but there is so much more to that. We are called to be the Salt and Light of the world, and we can only grow in our faith through devoting time to understand God's word, growing with a community of Christian brothers and sisters, and giving back to people in need.
The whole course was well structured with each lesson focusing on a key aspect of what it takes to be God's disciple; week-by-week building upon a foundation. Amy (pastoral team member) did a great job with coordinating the sessions and taking us through the course. My facilitators, Jeffrey and Swee Ching, were also an important aspect of the membership classes. Both of them helped the group to understand God's word through thoughtful discussions, and more importantly they shared their own personal experiences which I found particularly inspiring and uplifting. During the retreat sessions, Pastors Anthony and Emanuel also shared their personal encounters and shortcomings with the cohort. Their anecdotes were relatable and heartfelt, and I believed it gave the group assurance and comfort.
Renewed in Christ
As a new member, I still feel there is so much to learn, but I'll continue to build my foundation with daily devotions and by keeping the Word in my heart so that I won't sin against God (Psalm 119:11). I'll set aside time for daily devotions with my children as well, so that they too can grow in faith and receive God's love. As a born-again, I do feel that it is important to be accountable and have mentors to keep me grounded. I am grateful that I have my brother and close friends to guide me through.
All in all, it has been a tremendous experience and I know the journey will continue as I grow in faith!