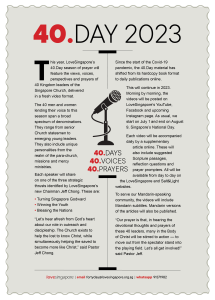 Scripture tells us:
That our leaders are bearers of deep truths of the faith (1 TIMOTHY 3:9)
That what God is about to do, He first tells His prophets (AMOS 3:7)
That in an abundance of wise counsel there is victory (PROVERBS 11:14)
That we are to love and heed the instruction of our leaders (PROVERBS 12:1)
This is the heart of this new iteration of the annual 40.Day prayer season.
This year, we will hear 40 devotional insights and 40 prayers from 40 leaders in Singapore, male and female, spanning pastors, missionaries, and para-church heads.
What has God been telling our prophets? What instruction will He give us in their wise counsel? Will we heed His Word?
And in a 40.Day first, we will literally hear from them.
Their voices, visage and emotion will be brought to your screens daily on video as they share the Word in Season for the Church.
Every video will be accompanied by
An English article,including reflection questions and prayer pointers
A Chinese translation of the article, reflection questions and prayer pointers
A Family Devotion edition,suitable for children under 12 years old
— all published daily on LoveSingapore platforms from 1 July to 9 August:
We hope you will join the Body of Christ, across all churches and denominations, in this new season of 40.Days • 40.Voices • 40.Prayers.