come and SHARE the joy and cheer of christmas with us!
Ang Mo Kio Methodist Church is organising a Christmas celebration in Ang Mo Kio (Central Stage and AMK Hub) to spread a little joy, hope and cheer! Do invite your friends and family to come celebrate Christmas with us. There will be food stalls, fun and games, plenty of music and dance performances, and much more! We hope to make this Christmas a memorable one for you and your loved ones, and to share with you the true meaning and story of Christmas.
We have also prepared invitation flyers for you to collect and give out to your friends and family. Do come and collect the invitation flyers from our information counter (Level 3) starting from 20 Nov (Sun).
Event details
Date: 17 Dec 2022 (Saturday)
Time: 1.30pm – 6.00pm
Venues: AMK Central Stage (beside NTUC Finest Blk 712) – 1:30pm-4:30pm
AMK Hub (level 3, near I Can Read) – 5:00pm-6:00pm
Admission is Free!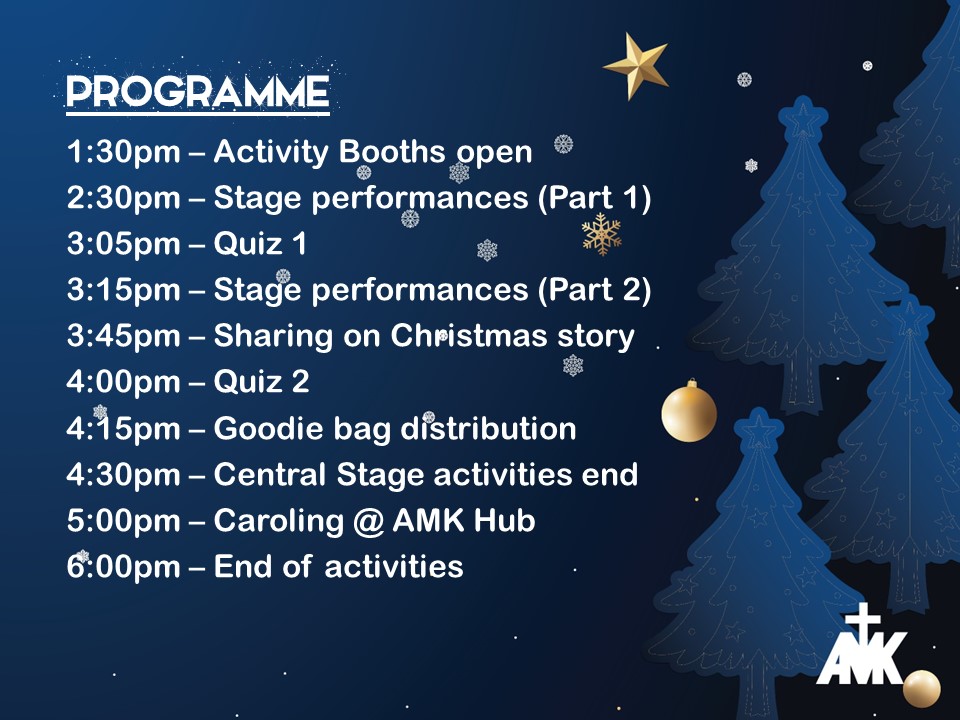 HOW TO GET THERE
The Central Stage @ Ang Mo Kio is located just a few minutes' walk from Ang Mo Kio Hub and bus interchange! Please see below for the map on how to get there. The stage is also accessible by bus along Ang Mo Kio Avenue 8 (Bus services 50, 159 or 265) and Ang Mo Kio Ave 6 (Bus services 13, 86, 138, 162, 851, 852, 853).
AMK Hub is directly connected to Ang Mo Kio MRT and bus interchange.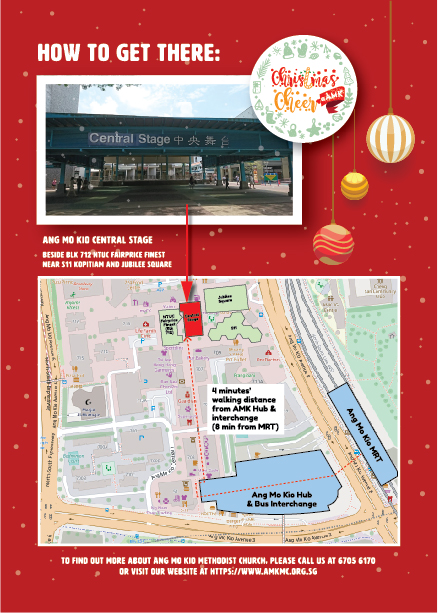 event brochure
A5-flier-final-for-distribution

HELp needed
Are you interested to help? We are seeking volunteers to help out in this event:
1) Logistics (to help with setup before or on the actual day)
2) Transportation (able to help ferry volunteers and logistics items)
Unsure of how you can help? Just sign up anyway and we will reach out to you on how you can help.
If you are physically unable to help, you can also support the team by praying! Join us at our Prayer Throne, held twice every week on Tuesdays (1-2pm) and Thursdays (8-9pm). For more details, please visit https://www.amkmc.org.sg/events/prayer-throne/
We will also be holding a synchronised prayer on 16 Dec (Fri) at 9pm, and strongly encourage you to join us to pray for the event wherever you are!
To sign up as a volunteer, please fill up the form below by 4 Dec (Sun).