We would like to encourage you to join us in the "Read the Bible in One Year" programme by following a Bible Reading Plan starting January. Click here to start reading.
DEVOTIONAL METHOD: S.O.A.P
What is S.O.A.P?
• The acronym S.O.A.P. stands for Scripture, Observation, Application, and Prayer.
• The S.O.A.P. method is a devotional tool to spend time with the Lord, reading His Word, reflecting, journaling and then praying.
• Just as soap cleanses our physical bodies, the Word of God will cleanse us spiritually.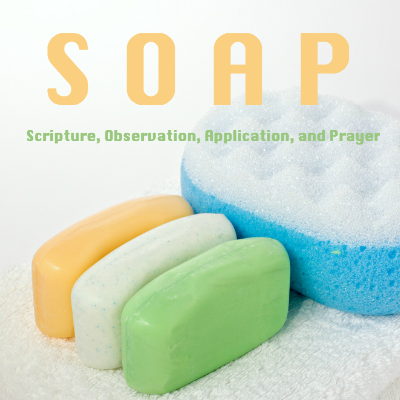 Why use S.O.A.P?
• It is a simple devotional method to read the Bible for ourselves so that we go beyond the usual devotional guides. It is akin to moving from eating processed food to cooking a meal for ourselves from a set of raw ingredients.
• The Bible reading program covers the entire Bible in one year. Do your best, however, please do NOT feel pressured to catch up on past readings. Just as you do not eat stale bread that's expired, the emphasis is on listening to God through His Word for each new day.
• Over time, it will help us grow in recognizing God's voice through His Word and become obedient disciples of Christ.
1. Scripture
• Read the Scriptures according to the Bible reading program for that day (see pages …)
• Select 1-2 verses you sense God is highlighting to your attention and/or you feel has special significance for you.
• Write the verse(s) out in your journal. Writing facilitates memory and this helps get the Word deeper in us.
2. Observation
• As you read the Bible, look for one of the following:
• A lesson to be learnt
• An example to be followed
• Promises to be enjoyed
• Jesus to be revealed
• Main question for reflection: Why is God highlighting this verse to you? What is God saying to you from the Bible?
• Write 3-4 sentences about what you have observed from the text and how it relates to you.
3. Application
• Main question for reflection: How will you be different as a result of what you have read and God has spoken?
• Write down specific application plans and desires.
4. Prayer
• Write a simple prayer to God as your response.
Going Further
After you have written out your S.O.A.P., give your journal entry a date, a title and a page. Turn to the table of contents and write them there. Over the course of time, you will have built up a depository of wonderful truths and applications from God's Word. You will also be able to see your own spiritual growth over the years.
If you feel you would like to do a more in-depth Bible study, feel free to use the rest of the journal pages for that purpose. However, we would urge everyone to continue to use S.O.A.P. as a common platform for daily devotions.
When?
The best time to do S.O.A.P. is whenever you are at your best! Some of us find it best to begin each day with devotions, while others can only have the peace to do our devotions at night after all the children are in bed. Know your own preference and commit to it.
Get a free copy of the 2023 Sermon Journal from outside Sanctuary 2 (while stocks last).
---
SAMPLE ENTRY
14 October 2021
Scripture
Nehemiah 12:43
"And on that day, they offered great sacrifices and rejoiced because God had given them great joy, even the women and children rejoiced, so that the joy of Jerusalem was heard from afar."
Observation
After Nehemiah had rebuilt the walls, the sense of security and peace and joy must be so great that joy of Jerusalem was heard from afar. Rejoicing is a great privilege of all who are safe, secure and victorious. The verse states that God had given them great joy. Likewise, God has given us every reason to rejoice and celebrate because He is our fortress and refuge and granted us all victory in Christ Jesus. Furthermore, this victory in Christ Jesus is not external and temporal, but eternal and spiritual.
Application
Am I a person of great rejoicing? Are we a community known for great rejoicing? It is a great privilege to rejoice! I must not hold back when it comes to declaring the goodness and praise of God! I must be bold to praise God and rejoice during worship and also in sharing God's goodness to believers and non-believers alike.
Prayer
"Father, I thank you for Jesus Christ, my Saviour, who gives me every reason to rejoice! I praise you for the security and victory I have in Jesus! Hallelujah! Help me to walk in light of this spiritual reality every day. Amen."
---
Read more about our Church Theme for Year 2023 here.
Get a free copy of the 2023 Sermon Journal from outside Sanctuary 2 (while stocks last).