Update : 15 Feb 2020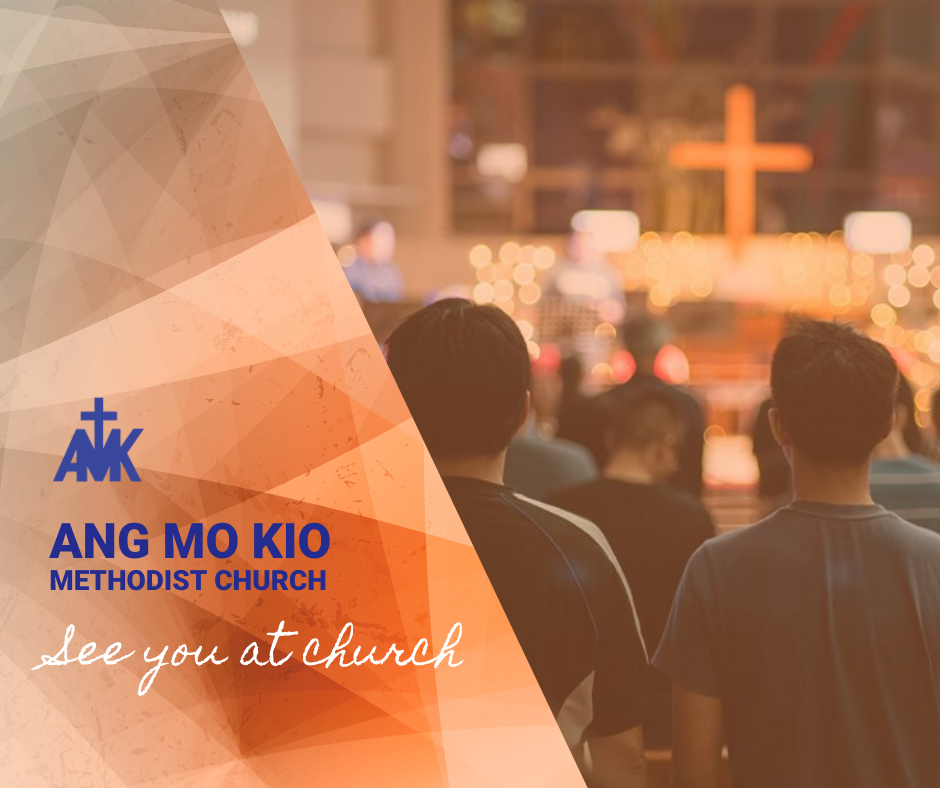 Our Worship Services (including AMK Hub) will continue as per normal
In light of the Covid-19 outbreak, cleaning efforts are being ramped up in our church premises. We have increased cleaning and disinfecting, esp for touchpoints like lift buttons, railings, table tops and pews.⁣⁣
Health screening and filling out of contact tracing form continue this Sunday. We have also prepared an online contact tracing form too. You can access the online form by scanning the QR code that would be prominently displayed at our premises.⁣⁣
Given that those of us who are unwell have been advised to stay at home or some may have been issued Home Quarantine Orders, we will be providing a live-stream of our services online. If you or your loved ones are unwell, do stay home and rest but make it a point to join our services online.⁣⁣
⁣⁣Traditional Worship Services – 8am & 5pm⁣⁣
Contemporary Worship Service – 10.30am⁣⁣
⁣⁣
What you can do meanwhile:⁣⁣
1- Wash your hands frequently with soap ⁣⁣
2- Avoid shaking hands & avoid touching your face with your hands⁣⁣
3- Take your temperature regularly & see a doctor immediately if you have a fever⁣⁣
⁣⁣
See you tomorrow! God bless!⁣⁣
---
Message by Pastor Anthony (8 Feb 2020)
Hi Everyone, AMKMC will be conducting temperature screenings and collecting contact details for contact tracing in view of the status of the DORSCON ORANGE status in Singapore. Please help us by being aware of the following points below. Please also help pass the word around to fellow CG mates and those you know from church.
1. If feeling unwell (fever, respiratory illness symptoms) or if your body temperature is 37.5 degrees Celsius or higher, please avoid church. Instead, see a doctor soonest possible as you likely have a fever.
2. If you have travelled to China in the last 14 days or suspect that you may have been in contact with someone infected but you have not exhibited symptoms, please exercise caution and quarantine yourself at home.
3. Come a little EARLIER to church to get your temperature checked and help us fill up the contact tracing form. Do be patient with each other as we expect some congestion.
4. Wash your hands regularly. Minimise contact with each other for this season but do greet (without shaking hands) and encourage each other in the Lord always.
5. Please FOLLOW the instructions of those taking temperature even if you don't agree with it. Encourage them as they are serving at the front line in this screening exercise.
6. Stay informed of the news from legitimate news sources and keep this situation and each other in prayer.
7. Let us remain hopeful in the Lord and refrain from spreading rumours or unverified information regarding the 2019nCoV.
Thank you once again for your support and cooperation. Let's work & serve together to keep our congregation members safe and healthy. See you all this weekend!
---
Update : 7 Feb 2020
MOH has stepped the risk assessment of 2019-nCoV from DORSCON Yellow to DORSCON Orange. In light of this, AMKMC will introduce additional measures.
We seek your co-operation and understanding that there will be some inconveniences but they are necessary and important to keep all of us safe.
Sunday Services
Temperature checks, declaration of travel history and recording of contact details for contact tracing purposes will be conducted at B1 Carpark, Level 1 Drop off point and Canopy area. Please come earlier on Sunday. 
Youth Ministry
Youth Service will be cancelled but youth cell groups will continue. 
Children Ministry
Our children ministry will continue in small groups/classes. Combined worship for our children will be cancelled. 
After-Service Fellowship
All after-service fellowship will be cancelled. 
Cell Meetings
Cell meetings will continue. Attendance will be taken. 
Ministry programmes
All outreach events (eg: LON, COSC programmes) will be suspended. For other programmes, please check on our website or with relevant ministry heads if the respective ministry programmes are going ahead as planned. 
Good Personal Hygiene
We continue to encourage good personal hygiene.

Wash your hands frequently with soap
Avoid shaking hands (use other forms of greeting) and avoid touching your face with your hands
Take your temperature regularly and see a doctor immediately if you have a fever

The 'Disease Outbreak Response System Condition' (DORSCON) is a colour-coded framework that shows you the current disease situation.
---
Updated as of 1 Feb 2020.
In view of the coronavirus outbreak that has been causing cases of severe pneumonia in China, we urge all members and friends to remain vigilant and to adopt good personal hygiene practices. Do seek medical attention promptly if you are feeling unwell.
Advisory specific to attending Church
If you have visited Mainland China within the last two weeks, please refrain from joining any church activities for a period of 14 days.
If you have developed a fever or are experiencing other respiratory symptoms such as breathlessness or coughing, you should seek immediate medical attention and rest at home.
If you don't have a fever but are feeling unwell, you may still attend church activities, but please wear a surgical mask and keep your hands clean at all times.
During this period, minimise physical contact, and practice heightened personal hygiene and social etiquette.
Hand sanitisers are available at the info counter outside Sanctuary 2.
Updates and more
For local updates regarding this coronavirus outbreak, please visit Ministry of Health website. You may also subscribe to Gov.sg whatsapp broadcast to receive the latest information. Meanwhile, Bishop Dr Chong Chin Chung also wrote a letter addressing this coronavirus situation.
Bishop's letter | Health Ministry Website | Gov.sg Whatsapp sign up form
additional advisory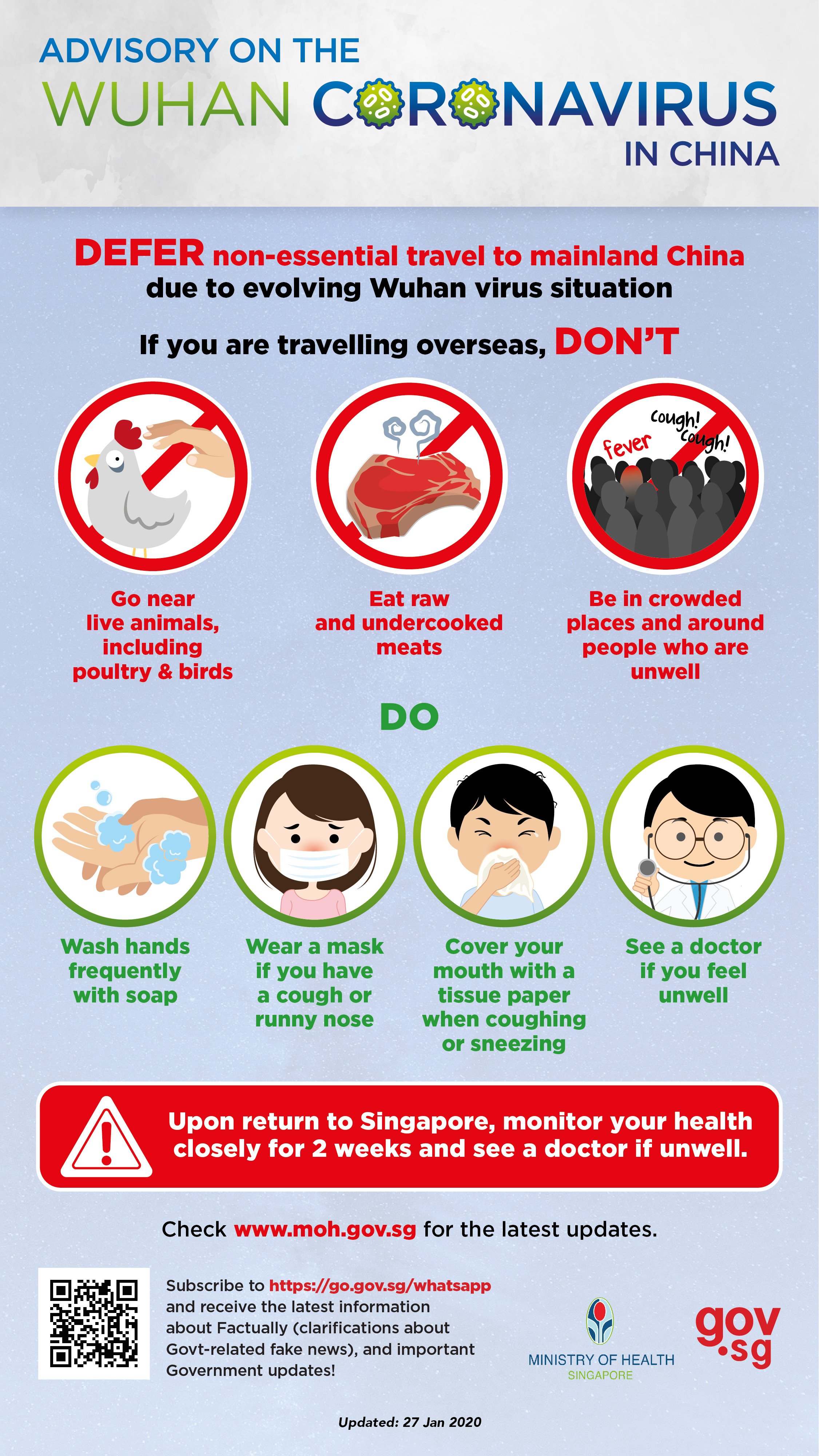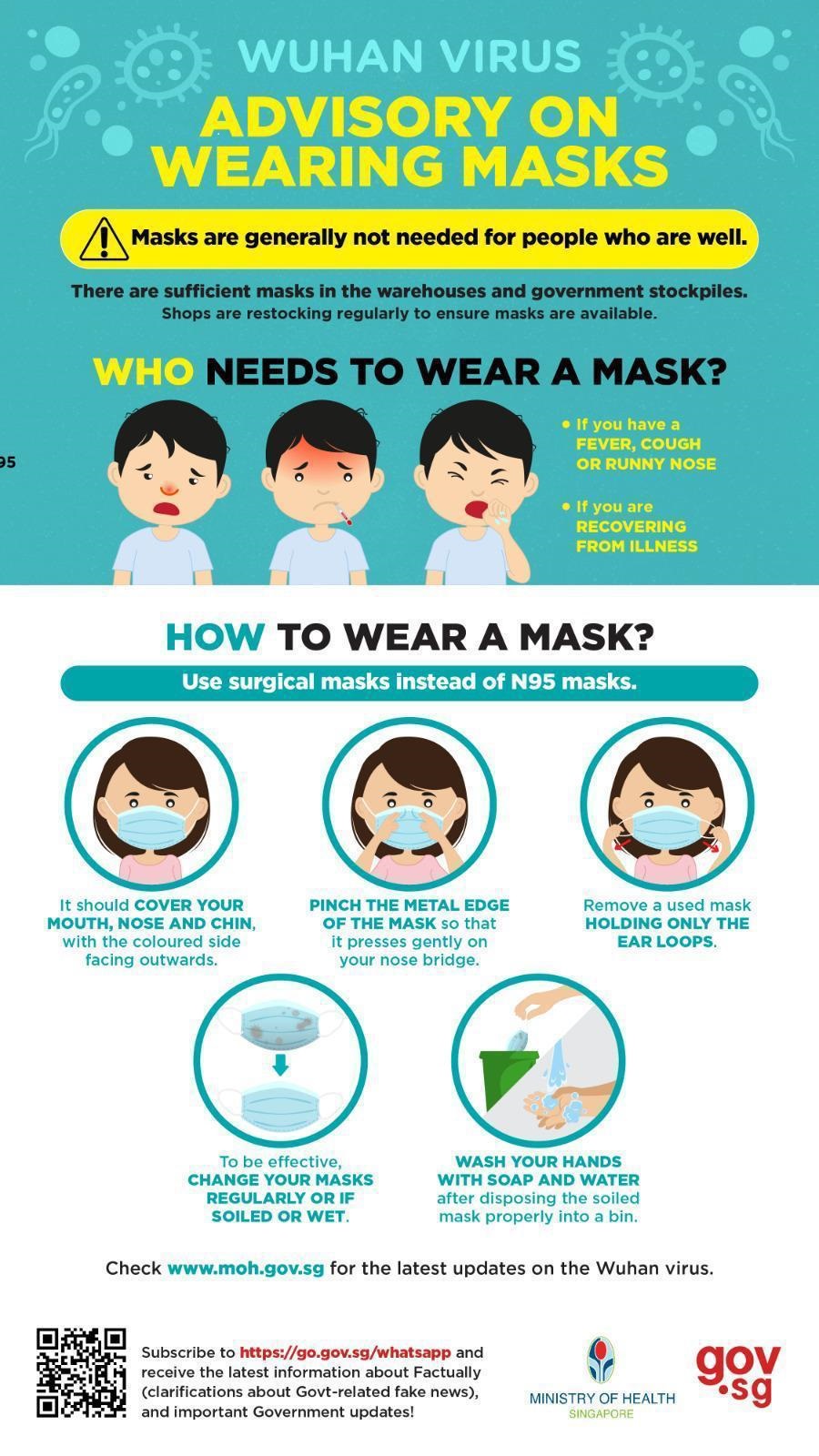 For more information about when a mask is a must, please visit Health Promotion Board website here : https://www.healthhub.sg/live-healthy/1204/when-a-mask-is-a-must