Dates : 13 – 16 June 2019
Speaker : Rev Stanley Chua

Venue : Hotel Jen Puteri Harbour, Johor Bahru

Registration officially commences on 1 Mar 2019 right here at this webpage. Please scroll down and read through the registration notes before clicking on the registration button below.

Do look out for more info in the weeks ahead and make sure you don't miss out!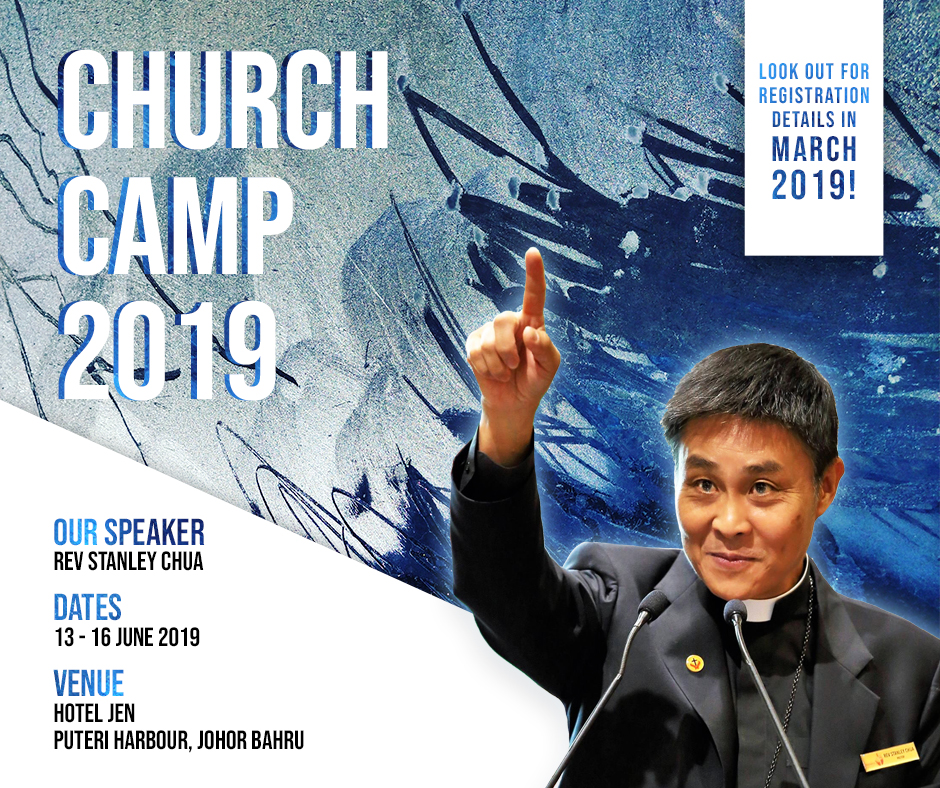 Church Camp 2019 Registration Notes:
Registration Instructions
1. The first name that you state in your registration will be the main applicant, who will receive subsequent instructions via e-mail, e.g. payment details, pre-camp letters, etc.

2. Each registration submitted will be for one room only. If you require more than one room, please complete a separate registration. There must be at least one camper who is aged 18 years and above in each room.
3. All campers, including infants, must register via the registration portal.
4. For campers below 21 years old, parental consent for your child / ward to attend and participate in Church Camp is required. Please refer to the acknowledgement email to download the consent form and further instructions. A separate form is required for each child / ward.
5. If you are available to assist in various areas of service during Camp, please indicate your availability in the "Areas of Service" in the registration form. Depending on needs, availability and suitability, we will be following up personally to confirm areas where help is required. 

Passport Validity and Visa Requirements
6. All campers, including infants, must hold valid passports. Please ensure that your passport(s) are valid for at least 6 months on the date of travel, 13 June 2019.
7. Please check visa requirements before travel and obtain it on your own, if required. If you are a Singapore citizen, you will not need a visa to enter Malaysia.


Camp Fees
8. The camp fees are listed below, and they include coach transportation between AMKMC and Hotel Jen Puteri Harbour, 3 nights' accommodation and most meals:

*Notes on registration for children
The age of the child is as at the date of travel, 13 June 2019.

Accommodation Room Configuration
9. Hotel Jen Puteri Harbour provides two options for rooming. No additional rollaway beds are allowed due to space constraints and because a sofa bed is already included in the room.
a) twin beds + 1 sofa bed
b) 1 king bed + 1 sofa bed

10. Room configuration details are as below:

Legends:
A = Camper aged 11 and above
B = Child 5 years to below 11 years with bed
C = Child 5 years to below 11 years without bed
D = Child 0 years to below 5 years (FOC)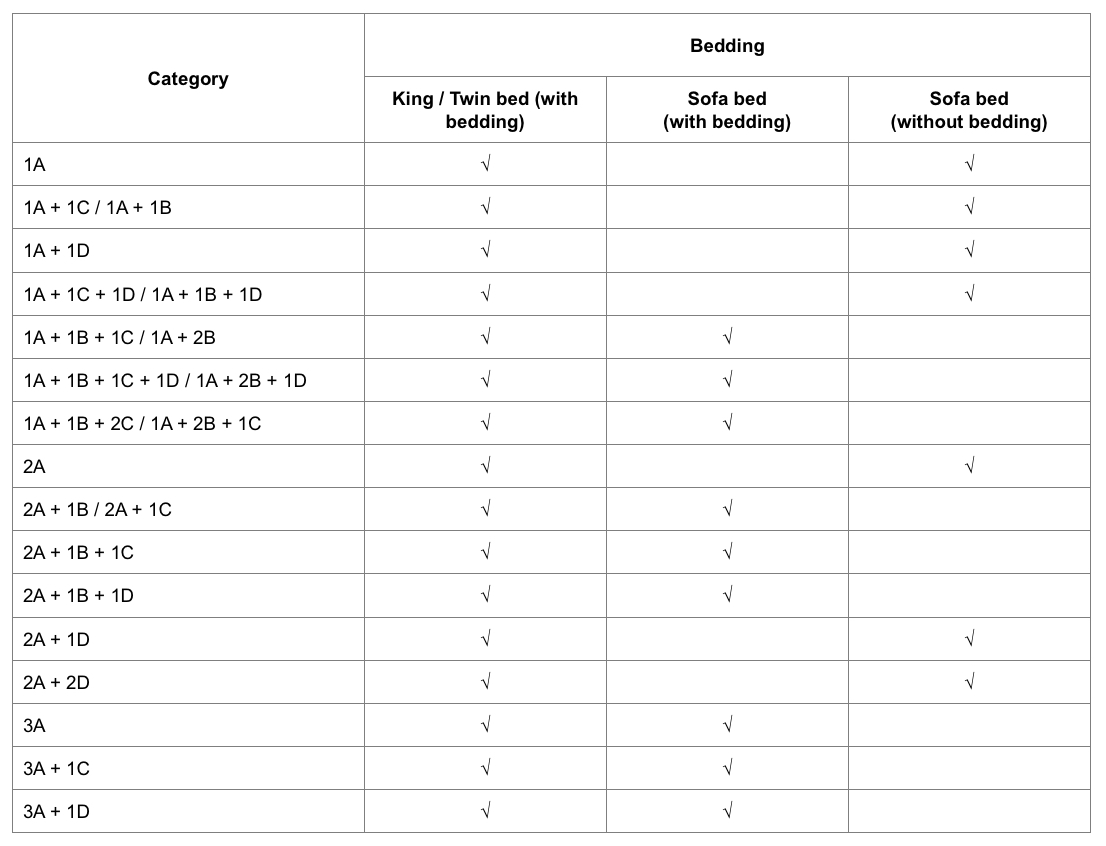 11. In some cases, you may notice that the price is the same for different categories (eg: 2A + 1B and 2A + 1C). This is due to the hotel's pricing policy.
12. The maximum occupancy in each room is 4 persons, including children / infant.
13. If you require an infant cot, please indicate it under the 'Remarks' section. While this is provided on a complimentary basis, there are very limited cots and will be allocated on a first-come-first-served basis.

Transportation
14. Please indicate if you require transportation between AMKMC and Hotel Jen Puteri Harbour. Details are as follows:
Coach transportation will be available from AMKMC to the Hotel on Day 1 morning (13 June 2019) and from the Hotel to AMKMC on final day of camp (16 June 2019).

For those wishing to drive, complimentary car park is available at the Hotel.

Contact
15. For any queries, please contact the Camp Committee at amkmc2019camp@gmail.com.
16. Early-bird prizes are available, so do sign up as soon as possible. Registration closes on 31 March 2019. We look forward to seeing you at Camp!

In His Service,
AMKMC Church Camp Committee 2019
---
SIGN UP TODAY!
---