BY Wesley Teo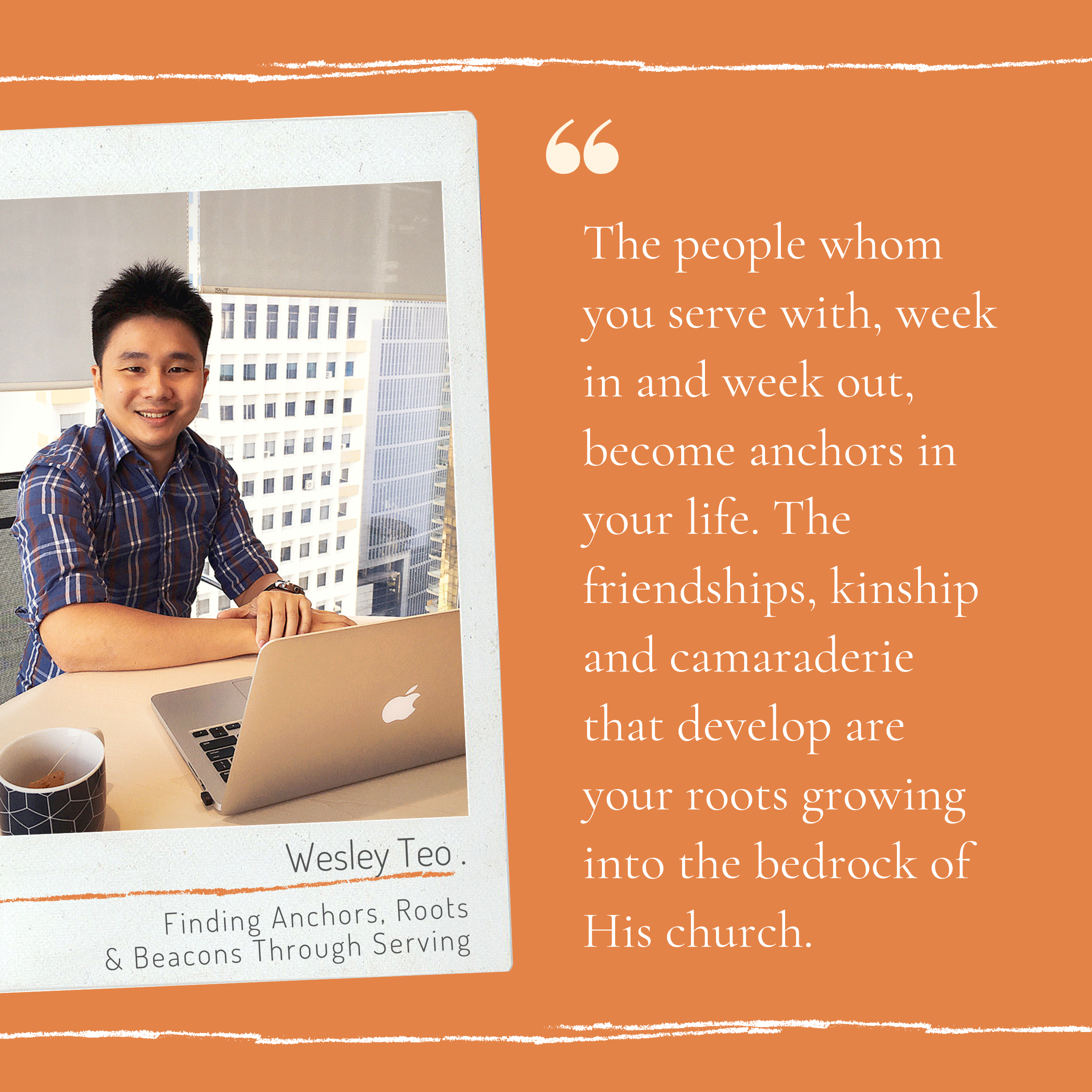 I found my way into AMKMC in 2012 and was welcomed into a community of wholeheartedness, openness and warmth. It did not take long for me to feel that I had a place in this house of the Lord. I was grateful to have been accepted by friends in the church; and it was because of this gratitude that I felt a need to extend myself to do more for the good of the church.
Upon encouragement by my Cell Group leaders, I joined the Audio Visual ministry in 2014. At that time, the AV team was under-staffed, and I thought I could help make up the shortfall whilst at the same time pick up a useful skill or two. There was much to learn from the start, but the team has patiently guided me to a point where I feel comfortable operating the equipment on my own. No doubt some technicality is involved, but it is nothing remotely close to landing a spaceship on Mars.
Carrying out AV duty at the AMK Hub involves a healthy dose of physical exertion, as we are required to set up the sound, visual and lighting systems from the ground up. For those of you who have attended the Hub service, it might surprise you to learn that the image beamed onto the screen comes from our own projector, and not that of the cinema's. As a team, I'd like to think there is a gentle sense of pride that accompanies the work we do. After all, "the show can't go on without us."
Inevitably, there are times when it gets tiring and I start to question my commitment. In these moments, I find myself turning to the Lord for help, and without fail He grants me respite and rest. This comes as a joyous replenishment to the body and soul. To this degree, the act of serving helps to nurture in me a seed of spiritual discipline. It grounds me in humility and encourages me to continually seek Him for strength.
It also warms my heart to know friends who have been faithfully and tirelessly serving for close to ten years. I recognise that such dedication is no simple feat, yet realise that their hearts are wholly in tune with the profound joy that comes from serving God. These people are very much an inspiration to all of us; and I take heart in learning from their example.
Through time, I have come to understand that serving is more than just about fulfilling your duty to God and His church. The people whom you serve with, week in and week out, become anchors in your life. The friendships, kinship and camaraderie that develop are your roots growing into the bedrock of His church. This graces you with an immutable sense of belonging in the family of God. Knowing that I have a place in this family provides a steadfast beacon of comfort in my life.
This is an article taken from The Journey newsletter. To read more stories, click here.
---