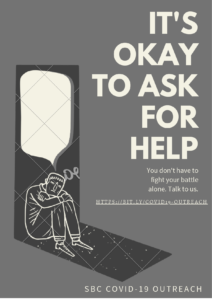 COVID-19 and the Circuit Breaker have impacted us in more ways than one. You may be struggling physically, mentally, emotionally, spiritually and financially. The increased time family members spend with each other could exacerbate pre-existing issues or create new ones.
A team of students from Singapore Bible College who are pursuing the Master of Arts in Counselling are making ourselves available to help church members who may have or be on the brink of experiencing such struggles, especially those who do not have counselling services within their own churches, or those who prefer to speak with someone who has no prior relationship with them.
Information of Counselling Service Offered
Purpose
To provide short term counseling services to Christians for mental and emotional distress arising from the Covid-19 pandemic. Limited to no more than 4 sessions. Any extension is to be reviewed with the core team and determined on a case by case basis. Referral may be made back to the Singapore Bible College Counselling Center (Haven) beyond the 4 sessions.
Period
From 24 April through to 30 June 2020
Counseling Matters
Comprise of a team of current SBC student volunteers who are pursuing Master of Arts in Counselling ("counselors"). Supervision will be provided for the team. We use an integration of counselling approaches and biblical truths.
Method /Mode of Counselling
Individuals who wish to speak to one of our counsellors may contact Randy @ covid-19outreach@sbc.edu.sg or 97895693. They will be invited to provide some basic information about themselves so that we can assign a suitable counsellor to the person. The mode of counselling during this period of time is strictly restricted to online electronic counselling through Google Meet or any alternative platforms. The counsellor will use the Google Meet under the SBC account to organize the counselling sessions. Counseling should include video features where possible.
Liability
This is an initiative established by a group of volunteer students from SBC. SBC is in no way responsible or held liable for any of the counseling services provided by the students.
Fees
Counselling is provided on a pro-bono basis for up to four sessions. Each session is 50 minutes.