BY Lim kok yong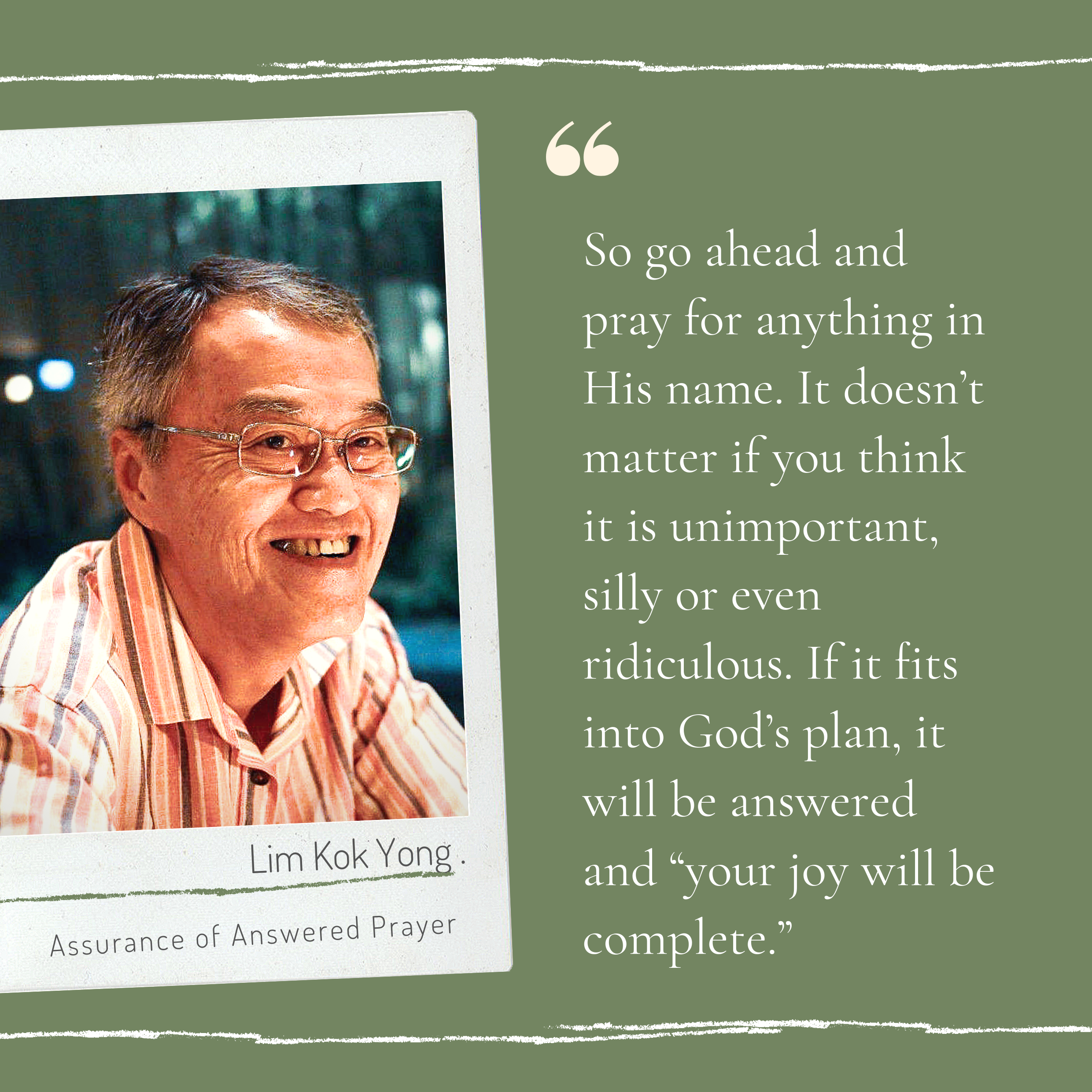 Until now you have not asked for anything in my name. Ask and you will receive, and your joy will be complete.

John 16:24
What do grandparents talk about? Grandchildren. I am a grandfather of one and am no different. My grandson is a blessing and an answered prayer from God. He is three and a half years old. However, this gift is not what I want to talk about.
In 2015, my daughter-in-law conceived after my wife and I had asked our cell members to join us in praying for His blessing (we came to Christ only in 2014). We were so filled with joy and quickly shared the news with them, praising and thanking the Lord. You see; my wife had been waiting for a grandchild for seven long years. I used to tease her and said that her neck was as long as a giraffe's as she continued to yearn for a grandchild since my eldest son's marriage in 2008.
One night not long after, as I was praying for a normal and healthy grandchild, I also prayed that the Lord will bless him with a Biblical name. Why I started praying for this, I really did not know. It was just a wish of mine but it wasn't really important. Some nights, when I prayed, it seemed to me that it was a foolish and even a frivolous request, but I kept on praying for it anyhow. If you are a Christian family, you would probably say that this is a normal prayer, but none of my children are believers and neither are my two daughters-in-law. They have probably never read the Bible or know many Biblical names (we are continually praying for their salvation).
Our grandson was born on 28 January 2016, and I waited expectantly for my son to tell me his name. It didn't happen until about a month after his birth. When our grandson's name was made known to me, I just thought – "God didn't answer my prayer because it wasn't in His plan."
You see, instead of a name I could recognise at once as Biblical, my grandson's name is one that is quite popular among the younger generation. Life goes on, I wasn't really disappointed.
But a few weeks later, as I was doing my daily Bible reading, I saw my grandson's name in the book of 1 Chronicles!
I was so excited; I 'googled' to find out if the name was mentioned anywhere else. Yes, it is mentioned eight times in the Old Testament, namely in 1 Kings and 1 Chronicles. He was also credited to have written Psalm 89.
So what is my grandson's name? It has been made very popular in the last 20 years by the actor Tom Cruise in the Mission Impossible series of movies. Yes, my grandson's name is Ethan.
I have often wondered why I had prayed for a Biblical name for my grandson and why God had responded so positively to my 'foolish and frivolous' request. It dawned on me as I was writing this.
1. It was the Holy Spirit who prompted me to pray for a Biblical name for my grandson.
2. God had a purpose for granting my request. Each time I am asked what my grandson's name is, I am moved to give this testimony.
So go ahead and pray for anything in His name. It doesn't matter if you think it is unimportant, silly or even ridiculous. If it fits into God's plan, it will be answered and "your joy will be complete."
This is the confidence we have in approaching God: that if we ask anything according to His will, He hears us. And if we know that He hears us – whatever we ask – we know that we have what we asked of Him.

1 John 5:14-15
This is an article taken from The Journey newsletter. To read more stories, click here.
---