YOUTH CAMP 2018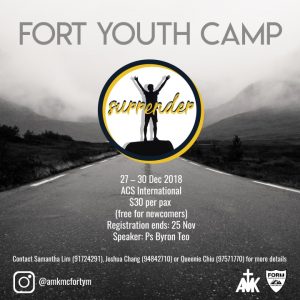 FORT Youth Ministry is excited to announce the details of this year's youth camp! We hope that all our youths (11-25 years old) will be able to join us for 4D3N of encountering God and committing our lives to Him.
Theme :
Verse :
Surrender
Matthew 11:28
"Come to me, all you who are weary and burdened, and I will give you rest."
Our hope is that through this camp, our youths can learn the importance of finding their rest and strength in Christ, surrendering all their hopes and fears to Him.
Date :
27-30 Dec (Thursday – Sunday)
Location :
ACS International
61 Jalan Hitam Manis, Singapore 278475
Registration Fee :
$30 (free for newcomers!)
Speaker :
Pastor Byron Teo (Bedok Methodist Church)
Registration closes on 25 Nov.
Registration Forms can be obtained at Reception Counter after 8 and 10.30 services at church.
Ps Byron had a fulfilling career serving God in the marketplace when God re-directed him to serve in church. He obeyed God and now serves as a Methodist pastor at Bedok Methodist Church.
You can follow us on Instagram at @amkmcfortym for more updates and details about Youth Camp and FORT Youth Ministry.
For any enquiries, please contact any of the following:
| | |
| --- | --- |
| Camp Commandant | Samantha Lim @ 9172 4291 |
| Asst Commandant | Joshua Chang @ 9484 2710 |
| Asst Commandant | Queenie Chiu @ 9757 1770 |
| Pastoral Team Member | Gerald Boon @ 9694 9544 |