What if being in love isn't a good enough reason to get married?
What if dating isn't about finding 'the one', but about serving The One who loves you most?
Join us in this journey of 'reading and gleaning' – exploring together beyond finding a 'soul mate', to looking for a 'sole mate' – someone who will walk with you on your spiritual journey!
FACILITATOR: PTM Chan Mei Ming
DAY/TIME: Mondays, 7:30pm – 9:30pm
ZOOM MEETING DATES:  29 June;   6, 13, 20, 27 July;   3, 10, 17 August
CURRENT COST OF BOOK:  $21.20 + $3.50 (Delivery to your address)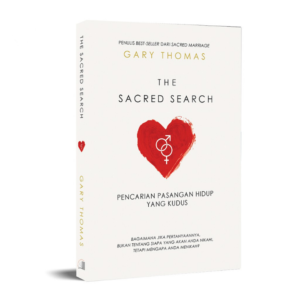 Registration is necessary to participate, and to ensure a copy of the book, The Sacred Search, Author: Gary Thomas, is reserved for you.
Please note that we will provide your name and mobile number to SKS Bookstore to reserve the book. A staff from SKS Bookstore will then contact you to arrange for payment and delivery. By registering for this course, you consent to AMKMC (TRAC) providing your name and mobile number to SKS Bookstore for the purposes of purchase and delivery of the book.
Please register online at the AMKMC church website.
Closing Date: Sunday, 14 June 2020 or when maximum number of participants is reached.
For more information, please email Mei at chanmeiming@amkmc.org.sg