Communication is the key to a healthy relationship and it's a skill that is crucial that will help us do better in all our connections. Teenage years can be challenging for many families and the way you communicate with them will need to change to reflect the new boundaries in your relationship created by their increasing independence. Discovering these approaches and tips to communicate effectively with one another is important. Effective communication with your teenager can help you both feel happier, fulfilled and more connected in your relationship. You will also be more confident about having difficult conversations and resolving conflicts and stress.
Given his extensive and diverse background, intuitive education, global experience and marvellously entertaining training and speaking style, be prepared for a power-packed engaging session as we learn how to communicate more effectively with our teenagers. Register for the session now!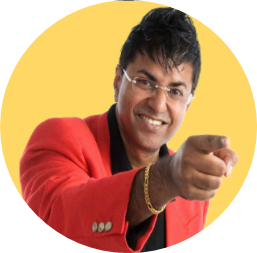 SPEAKER: Leslie Choudhury
Founder, Leslie Choudhury International Pte Ltd
Associate Staff, Navigators Singapore
 Leslie Choudhury is a transformer of individuals and teams. Armed with his cheerfulness and wit, Leslie uses Directive Communication Psychology, Neuro Linguistic Programming, Positive and Biblical Psychology in his talks/sessions to reach out to his audience. He is Asia's leading communication trainer and has been voted as one of the most influential communication gurus in the world from 2010 to 2016 by Gurus International.
Leslie has been actively involved with the Navigators since his university days in the US and he has had an interesting and diverse career in the business and corporate world with various accolades recognising his motivational skills, management and leadership capabilities.
Currently, apart from conducting training and workshops this his soft-skills training company, he works with the Navigators in Singapore, heading up the Navigator Community Ministry in Singapore. Leslie takes pleasure to serve God as he coaches people to influence and inspire.
DATE: 10 April 2021 (Saturday)
TIME: 2:30 – 4:00 pm
Venue: Amstutz Hall
Cost: Free (but registration is necessary)

Register below now! (Closing date: 4 April 2021). For any queries, please contact PTM Jonathan Ong (jonathan.ong@amkmc.org.sg) or Kerrie Chang at kerriechangly@yahoo.com.sg
[Registration closed]