Building Prayer Altars (101 & 102)
Building Houses of Prayer Everywhere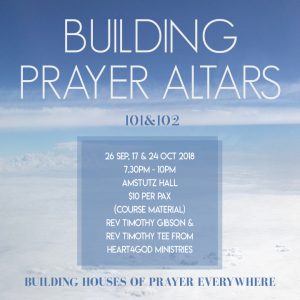 Course Synopsis:
'Building Prayer Altars' is not just a good idea but it is an indispensable strategy for a God-filled life. This is not just another programme but a path that will bring you back to a Christian way of life that is biblical, faith-filled, Spirit-led and victorious.
The objective of the course is to draw you to God's altar to renew your personal covenant with Him. You will be transformed by God who will empower you to testify of His goodness to others.
During this course, you will learn:
what are prayer altars
why we need to build prayer altars
God's purposes for them
how to start building an effective and strong prayer altar habit
how prayer altars usher in the presence of God and push away your personal darkness
how prayer altars bring God's transforming power into your inner life and your external world (your family, church, workplace, society and Singapore as a whole)
| | |
| --- | --- |
| DATE : | 26 Sep, 17 Oct & 24 Oct 2018 |
| TIME : | 7.30pm – 10pm |
| VENUE : | Sanctuary 3 (Attic level) |
| SPEAKERS : | Rev. Timothy Gibson & Rev Timothy Tee from Heart4God Ministries |
| FEE : | $10 per pax (Course material) |
Closing Date: 23 Sep
Please register at the information counter.
Please contact Ho Ai Choo @ 9298 6767 for enquiries.