Our Church will be starting a 2-year project to update our official church membership records as well as migrate our present offline data into a secured, integrated online Church Management System (CMS).
As we implement our new online platform, we will be able to offer enhanced services to allow members and friends to easily sign up for courses, events, camps and seminars as well as receive important news and updates from the church.
This project will be conducted in a few phases and will involve every one (members and non-members) who attend our church.
Friends and visitors who regularly attend our church services and cell groups are also invited to be part of this exercise.
This project will be rolled-out in the following phases:-
Phase 1
1 Feb – 31 Mar 2015
Adult Cells (Registered cell members)

Phase 2


1 Apr – 31 May 2015


Members & Friends who are not registered in Cells
Phase 3
from 1 Jul 2015
Members & Friends who are overseas or others who are still registered with our Church
*Phase 1 Notes – CELLS ONLY:-
Will commence in mid February and only involve registered cell members in AMKMC (TRAC) Adult Cell Groups.
Required for official members of AMKMC (TRAC) attending cells.
Instructions will be emailed to you at your registered email address.
FAQs can be found below on this webpage. Hardcopies of FAQ can be requested from the Information Counter on Sunday.
For queries or support, email to:- membership@amkmc.org.sg
For cell members without email, please contact your cell leader for further instructions.
---
 Screenshots of Email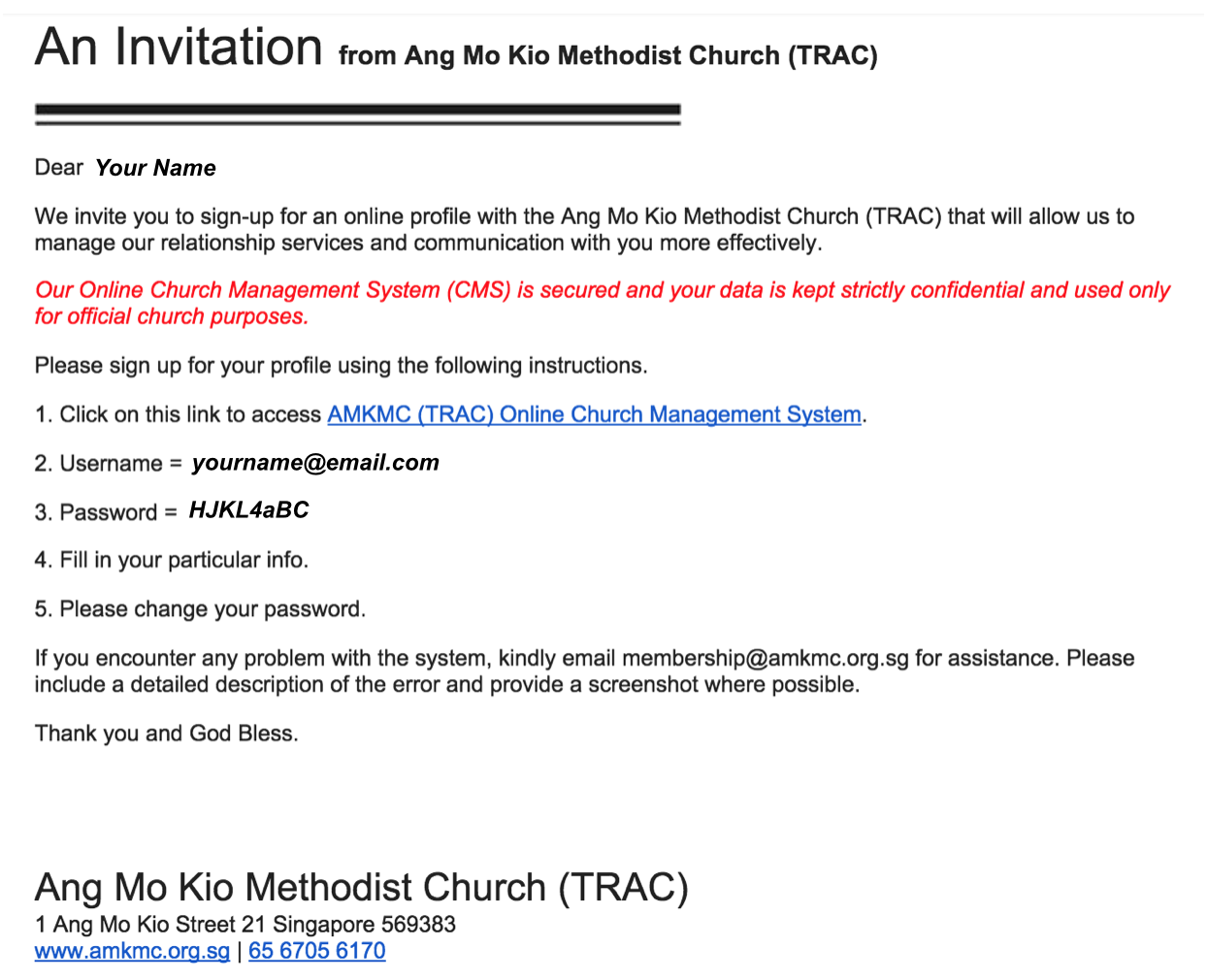 ---
FAQS