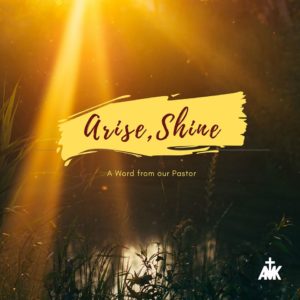 ", "
The church is in the spotlight.
As of 19 Feb 2020, there are 84 cases of Covid-19 in Singapore (46 under observation, 4 in critical condition, and 34 recovered and discharged – thank God!), out of which at least one-third are linked to churches.
Without going into practical and theological reasons why churches are badly affected, we have to recognize that churches are meant to shine in the first place – for good reasons, of course.
Jesus said, "You are the light of the world. A town built on a hill cannot be hidden. Neither do people light a lamp and put it under a bowl. Instead they put it on its stand, and it gives light to everyone in the house" (Matthew 5:14–15).
In a world darkened by fear, our faith and good deeds are meant to shine!
Daniel 12:3 (NIV) says, "Those who are wise will shine like the brightness of the heavens, and those who lead many to righteousness, like the stars for ever and ever."
There is no better time than now – when so many are afraid of their lives – to guide people to righteousness, peace, and life in Christ Jesus. Our Taste of Alpha course is starting soon. Do boldly invite people to experience the life and peace we have in Christ Jesus.
Within our church, I hope we will also heed the advice of Apostle Paul when he said, "Do everything without grumbling or arguing, so that you may become blameless and pure, 'children of God without fault in a warped and crooked generation.' Then you will shine among them like stars in the sky as you hold firmly to the word of life…" (Philippians 2:14–16a, NIV).
Please do not grumble against church leaders and all who watch over you in loving authority, as if they did not do enough to prevent the spread of the virus. Remember, Jesus taught that a house divided against itself cannot stand (Matthew 12:25; Mark 3:25; Luke 11:17).
Finally, I end with a most wonderful Scripture passage, Isaiah 60:1–3
1 "Arise, shine, for your light has come,
and the glory of the Lord rises upon you.
2 See, darkness covers the earth
and thick darkness is over the peoples,
but the Lord rises upon you
and his glory appears over you.
3 Nations will come to your light,
and kings to the brightness of your dawn.
What a glorious promise – our light will bring nations to the Lord!
May God help all of us to hold firmly to His words of life, living it out, and guiding others to Him through our light. Ang Mo Kio Methodist Church, arise and shine!