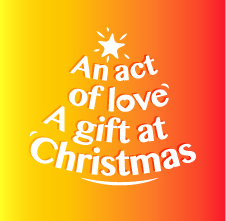 A Christian Outreach & Social Concerns (COSC) Ministry initiative:
• Appeal For Donations For Needy Children And Elderlies
• Volunteers Needed For Gift Distribution And Home Visitation
A Special Time for Giving and Sharing is here again! This December, we will
be distributing gifts to 400 needy elderlies and children over two Saturdays
within Ang Mo Kio.
Gift@Christmas Donation Tags
We need your generous financial support. This is an opportunity for us to
share God's Love!
HOW: Purchase gift tags outside Sanctuary 2 (and Hub) | Each tag is $50 |
Pen a blessing on the tag & hang it on the tree (this will later be attached to
gift voucher) | Please approach the Counter after Service for your donation
Your $50 goes toward a Gift voucher for either children or elderlies.
WHEN: For Elderlies (2 Dec) – a gathering will be held in partnership with the
Children's Ministry; For Children (9 Dec) – home visitation.
Volunteers needed for distribution
You are invited to join us for home visitation to bring God's love to needy
children and their families this Christmas.
WHEN & HOW: Saturday, 9th Dec | 9.30am at King David room, Level 4 |
Please register early at Information Counter to help us in our planning | You
are encouraged to register with a partner or as a cell for home visitation.
Otherwise, we will be glad to allocate a partner to you | Cell Leaders can
register on behalf of the cell group by submitting the names of participating
members | For unsuccessful delivery on that day, volunteers have until
24th Dec to deliver the gift to intended recipients
Donations & registration closing date: 26th November 2017
For enquiries, please contact:
i) PTM Mr Tan Quee Chew at 6705 6160 / 8123 4772 (hp)
ii) Ms Valerie Yap, 9386 6407 (hp) / Ms Ng Yan Ni, 8463 5771 (hp)
(Mon-Fri @ 8pm-10pm /Sat-Sun @ 9.30am to 5.30pm)