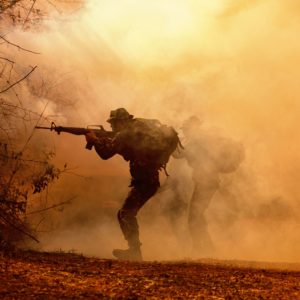 Today we begin by examining the soldier imagery. Paul says in v.4, "No one serving as a soldier gets entangled in civilian affairs, but rather tries to please his commanding officer."
To be prepared for Jesus' return, the foremost need is to have a clear priority. Our priority must be to live our lives in such a way that pleases Jesus our Lord and commanding officer.
If a commanding officer sends a soldier out to the battlefield, it would be ludicrous for that soldier to be concerned about how a fish monger is selling rotten fish back home.
You may laugh at this silly example, but if we think about it, is it not true that we have often been distracted or even entangled by matters of this world that we have failed to live for Kingdom matters?
God calls us to advance His Kingdom on earth (through sacrificial love) but we often build our own little sandcastles on the beach instead.
Do you not know your life is no longer your own? Do you not recognize you were redeemed for a price and a purpose? (1 Cor 6: 19, 20)
You may think you prioritize God in your life but lest we be mistaken, it is important to recognize that how we spend our time is the best measure of our priorities.
Questions for Reflection:
Who are you living to please? Who/What is the priority of your life? How do you spend your time?